Having at least one social media account seems important for many people, especially for youths. Instagram is considered as one of the most used social media platform nowadays. Instagram changed the way consumers acted by spending most of their time scrolling through timeline, and this is such a huge opportunity for brands in promoting themselves. Using influential people with massive amount of followers to endorse products, this action seems familiar recently.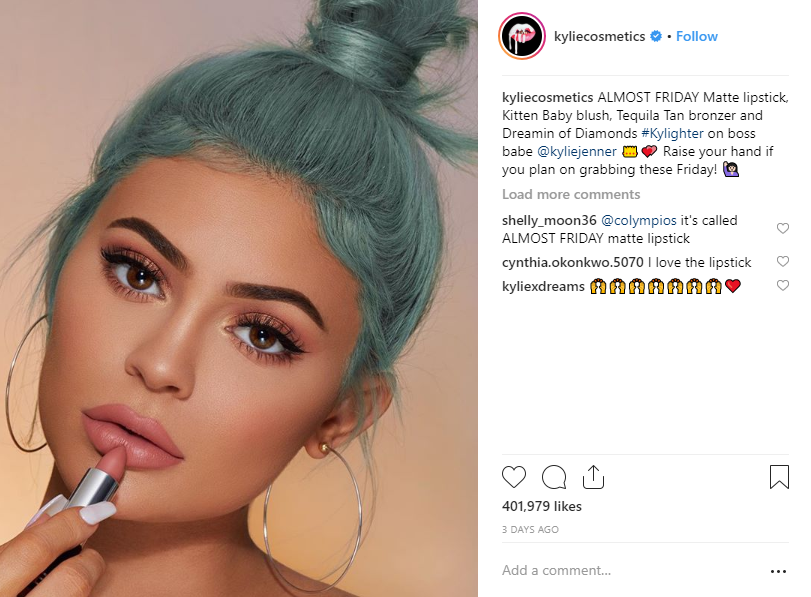 Source: Instagram (@kyliecosmetics)
Let's take a look at Kylie Jenner. As per start of 2019, her Instagram followers reached the number of 123 million. Thanks to her massive online influence (and her infamous family), her beauty product labeled Kylie Cosmetics doesn't need any advertisements in promoting its existence. She just need to post some Instagram stories mentioning her products and people are buying them. The success of her beauty products sales reflected as she was named as one of America's Richest Self Made Women in 2018. Once again, thanks to social media.
But have you ever wondered if the same success (and sensation) happened by an unreal person. Someone who doesn't exist in real life, but have that much influence for youths. The answer is yes, Lil' Miquela does it. As of January 2019, she already has 1.5 million Instagram followers. She's a robot created by Trevor McFedries and Sara Decou, made her first appearance in 2016. Since then, people are questioning whether she's real or not. Just like a real person in the real world, many dramas took place in her 'life' (another robot hacked her Instagram, revealing her true self as a robot, public disappearance, etc.) But let's just focus on how influential she is to global teenagers and how she engaged with big brand such as Prada.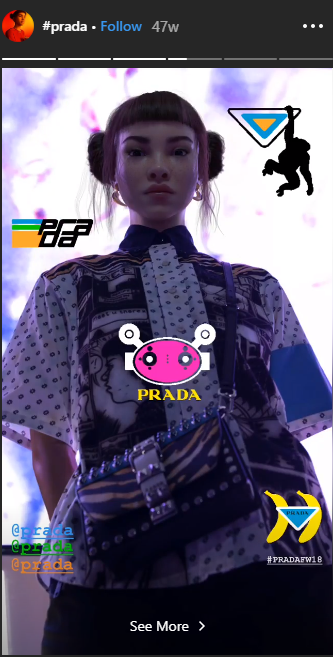 Source: Instagram (@lilmiquela)
Talking about her work with Prada, I personally have never imagined a partnership between a fashion giant with a digital robot, but it happened with Lil Miquela. In 2018, she released series of Instagram pictures and stories, showing herself in Prada outfits as a part of Prada's campaign. This campaign is considered unusual, because most of fashion brands only use real models for their promotions, and of course they choose influential models as such Kendall Jenner, Gigi Hadid, etc to boost brand's online existence.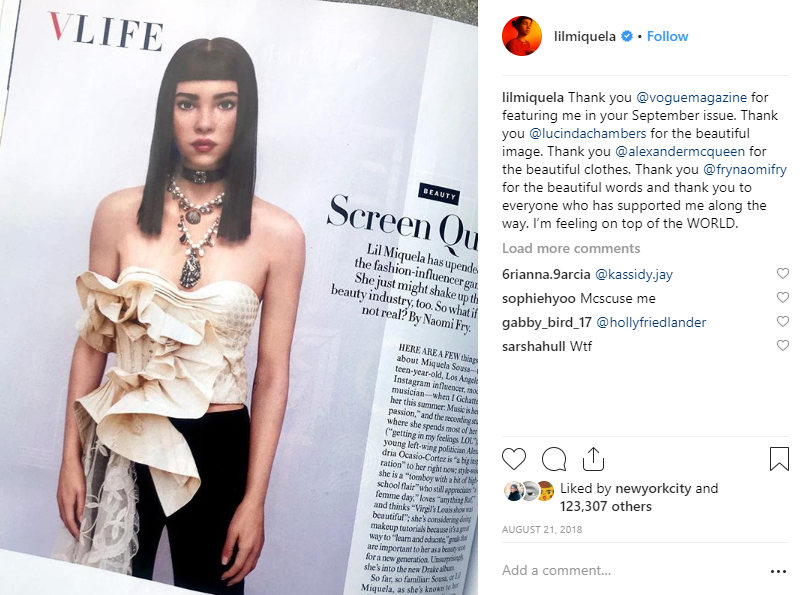 Source: Instagram (@lilmiquela)
Not stopping there, Lil Miquela also got chances to be interviewed and profiled by several prominent lifestyle media such as Refinery29, Buzzfeed, Nylon, BBC.com, V Magazine, and Vogue.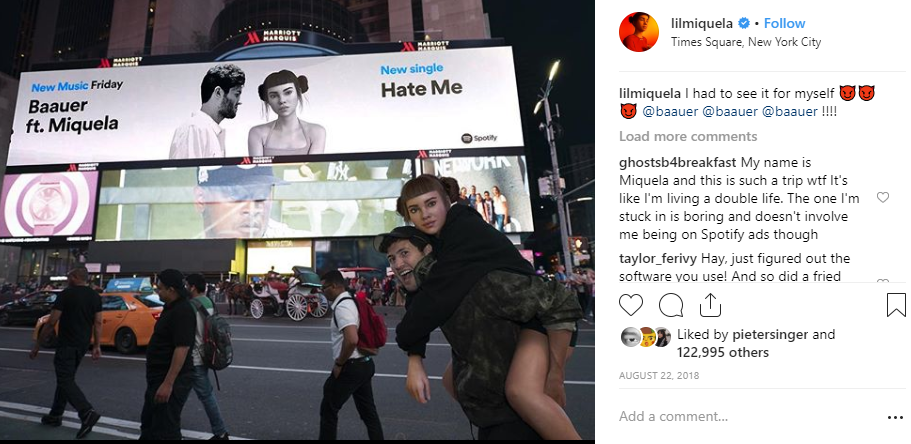 Source: Instagram (@lilmiquela)
Beside stabilizing her presence in fashion industry, Lil Miquela also released several songs on social media. Her first song "Not Mine" released in 2017, followed by "You Should be Alone" and "Over You". Worth to be mentioned, Brooklyn-based DJ and producer Baauer who got his recognition from "Harlem Shake", ask Lil Miquela for a collaboration. They released a song titled "Hate Me" in September 2018, hitting more than 3 million listeners so far.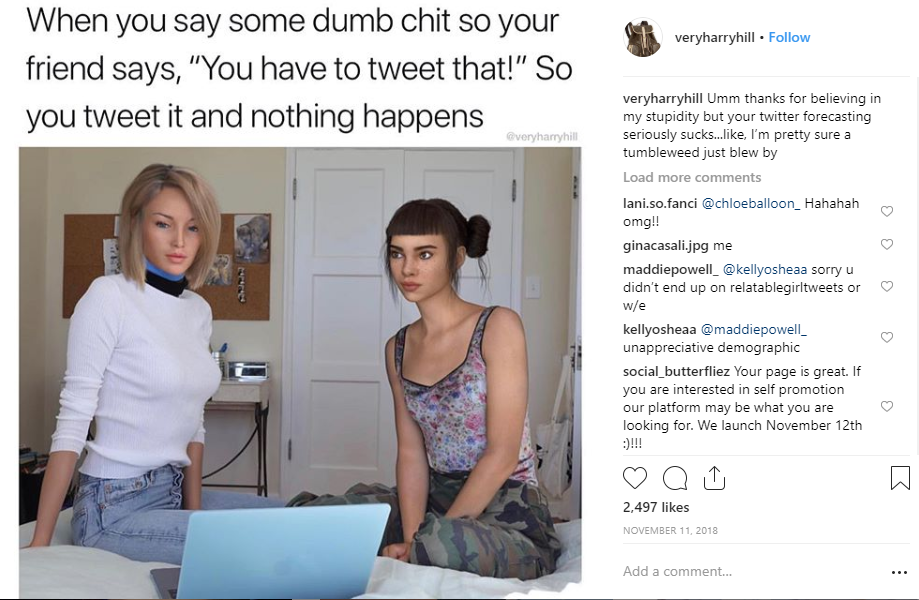 Source: Instagram (@veryharryhill)
But how did Miquela gain her fame in the first place? Somebody cannot just emerged on Instagram and steal the spotlight. For Miquela's case, thanks to the power of Instagram buzz. Meme accounts are many to be found on Instagram, let's say accounts named @sarcasm_only, @bitc.h, @that_basic_bitchhh, etc. These accounts willingly posts Miquela's picture with caption questioning wherher she's real or not, and tagged her. Well, it's kinda hard to answer since Miquela seems like a real, write captions like a real person, befriends with real models, and seems like having a daily life like real people. Those meme accounts followers curiously searched about Miquela by visiting her page to find out whether she's real or not. The buzz continued as these people started to repost more pictures of her.
Source: Instagram (@lilmiquela)
Secondly, Lil Miquela gains more popularity as another CGI-personality named Bermuda hacked her Instagram account and threatened her that she would not give Miquela's account back unless she tells the truth to her followers. Such drama, but people do love dramas. Miquela did so, stated that she's a robot and got her account back from Bermuda, and become, uh, friends. I cannot say this is a good story, but I can tell this is how you grab people's attention, to add a little bit tension in the story.
Source: Instagram (@lilmiquela)
Aside from the drama, Lil Miquela also actively speak up about social issues happening in the USA. She's labelling herself as a feminist, supporting LGBTQ communities, promote #FamiliesBelongTogether, and any other social issues. To many, such was considered as a good move made by a digital robot, who make a difference by speaking up about real issues in the society, and using her influence to spread the news to her followers, who mostly consist of millennials.
Here are two PR lessons I can learn from Lil Miquela. First, we cannot underestimate the power of social media buzz, even when it comes from any trash-post accounts. Social media is, undeniably, two-sided knives. We can get recognition as soon as the buzz is spreading, and people will talk about it. But once you make a mistake, people can hit you back with your digital traces. Everything come and go so fast in social media, and when something is uploaded, it became public consumption. Always be careful.
Secondly, creating a good story for people to get recognized is something to be considered, even when we need to add a little bit of drama into it. When things got boring, people need more tension to the story, gotta make some buzz from the internet. Lil Miquela cannot only be a robot who is also a model, that'll be too boring. Lil Miquela ia a robot and a model, who is having an affair with another robot on the internet, that's a story.
References:
https://www.refinery29.com/en-us/miquela-sousa-fake-instagram
https://www.thecut.com/2018/05/lil-miquela-digital-avatar-instagram-influencer.html