Nowadays people open food pre-orders to sell their homemade meals, to gain pocket money to support their daily lives or just a hobby they enjoy. Selling your goods by pre-order is one of the business strategies that can be effective because supplies are set accordingly by the orders; there is no need of stocking or piling. As simple as: customer orders, goods are sent .
The system of pre-order is known as business to consumer (B2C). According to the Co-founder of Fellacook, an application for home-cooked pre-orders, Andri Purwanto, "Fellacooks is a B2C business model, where Fellacooks targets to publish and educate public on how easy it is to do a food business using technology." Selling your goods online since the technology development gives a huge impact to the public because many people in indonesia have a hard time tfind profit and this is one of the easiest ways to earn income without a big capital.
For people who are interested in opening a food pre-order business. First, figure out what kind of food that you want to sell and try to choose one type of food, such as Italian cuisine, pastries, or Indonesian market snacks. It can be any kind of food you desire. In preference to settling on one, it is important to research the food market and make sure your meal is not mainstream and provides what your target audience needs.
Research your target market to know who you want to sell your food to and you can sell your food effectively, such as choosing your social class from lower class to upper class. By choosing your social class, therefore you can decide on how much you want to sell your meal. Budget your plan in excel, list the prices of your cooking equipment, ingredients, and packaging. Your first pre-order will need capital for over cost and if you're lucky enough your first pre-order income will break even, but you will not receive income yet. Opening a pre-order needs patience and commitment. For the second or third pre-order you will then receive income, depending on the market.
On a food trial, let your friends and family try your food for feedback and deficiencies to finalize the final meal, then set dates. Scheduling is mandatory, to keep you on track and organized. The most important thing to get your first pre- order out there is through marketing and promotion. You have to do a good job and have a great plan in getting your name out there. Decide on what platform you want to market your food and plan your feed with advertisements such as a teaser, following with promotional ideas like promo or discounts. Make your platform feed as interesting as possible, people are suckers for eye-catching feeds.
Before the D-day, you will need a day before to get ready, which you will have closed your pre-order to calculate the number of orders. After calculating, start buying the ingredients and packaging with the profit that you received, normally the packaging comes in stocks where this can be used for a couple of pre-orders ahead and reduce packaging cost. On the day, you will need to start early to cook your orders to reach the aiming time and once you have achieved it, finally send the meals to your customers and wait for their reviews.
For the success of your first pre-order, you will need to maintain the business flow as it is, following the previous steps you have gone through. Create more different advertisement and promotion ideas to get your customers interested and discover what your customers like or follow the trending trend like in Ramadan or Christmas, making hampers that can sell. This can help you increase your buyers. Also, maintain trust with your loyal customer in offering an advancement. A trick to help you get your market growth is through endorsements and collaborations. Endorse influencers or celebrities your meal for them to review, it will increase in no time. Collaborating with other small businesses can escalate the market and get your name out there, this can be a huge advantage for your small business as well.
Overall, focus on the market to achieve the right amount of income that you're expecting, keep a schedule to be on track and organized, build relationships with customers and other small businesses and prepare for the worst. A small business food pre-order can teach you a lot of things, by being organized, researching potential markets, advertisements and promoting, and communicating with customers.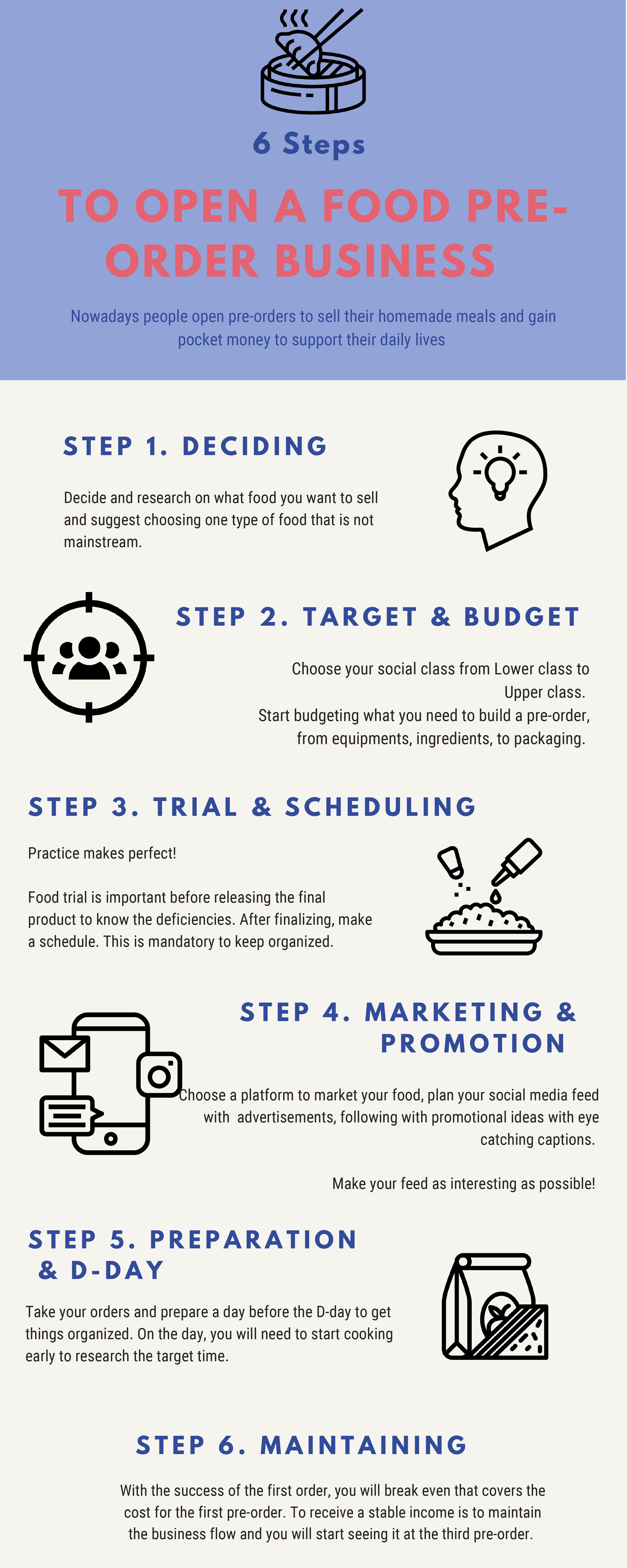 Written by Alyssa Tagor